Web Manager Desktop Enterprise
The 'Web Manager Desktop' Enterprise has been designed for medium to enterprise sized organisations who want to manage and develop their own portal style services in a cost effective manner.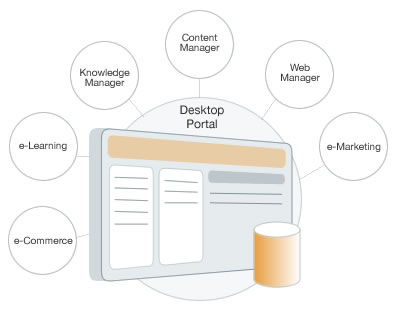 Overview
Web Manager Desktop Enterprise has been designed to simplify the process of creating a web structure and release the full potential of the Internet. The enterprise edition of web manager is targeted towards enterprise applications used for creating and managing professional large-scale web sites. Being based upon our Knowledge Desktop Portal product ensures the Web Manager Desktop Enterprise is well placed to integrate with your portal solution or to become your portal solution of choice.
Key features of Web Manager Desktop Enterprise are:
Easy of use
100% web-based solution
Real-time updating of content
Built-in 'best practice' models and workflows
Extensive library of plug-and-play functionality
Well-defined security model
Proven solution
Customisable user interface
Please see a complete list of Web Manager Desktop Enterprise Features and Benefits below.
Web Manager Desktop Enterprise is based upon Java(tm) technology and uses the latest knowledge-based technologies and designs to ensure you get the best from your web site.
Why is Web Manager Desktop Enterprise Different from Other Solutions?
Unlike other web content management solutions Web Manager Desktop Enterprise is knowledge-based portal solution. The information about your organisation and its services/products are not embedded in the web site pages but is stored separately in a knowledge base. Web Manager Desktop Enterprise understands the relationship between the objects used in your site (products, services, company profiles, news items, FAQs, etc.) and treats each uniquely to build the web service to meet your needs.
Remember all information stored in Web Manager Desktop can be readily repurposed and reused (in other ways unforeseen when the information was created).
As Web Manager Desktop uses the proven technology of Knowledge Desktop Portal Server its also easy to integrate with other external systems.
There is also Web Manager SME Package which is targeted towards smaller organisations.
Publishing in Web Manager Desktop Enterprise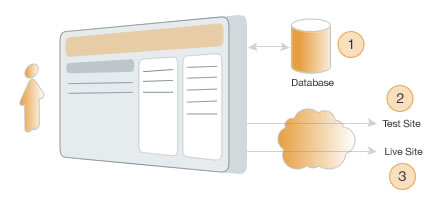 Scalability And Applications
This package is capable of supporting both static and dynamic (database driven) web sites and can support web sites up to 250,000 pages of content.
Features and Benefits
| | |
| --- | --- |
| Feature | Benefits |
| 100% Web-based | No download or installation is required on to your local computers. Access is via a password protected web site. This reduces your computer support costs and allows access to a mobile workforce. |
| Knowledge-based | Structured editors provide knowledge-based solutions to managing your information. All content is not the same (products are not the same as news items) whilst other products force you to apply the same structure to all your content yourself. Web Manager Desktop Enterprise provides best-practice, proven knowledge-object solutions with a simple-to-use interface. |
| On-Screen Editing | Users can quickly access the information they desire and modify it using simple on-screen editing tools. They can quickly create, modify, preview and then publish their content. This saves you time and money - no more expensive third party web fees. |
| 1-2-3 Process | Creating, editing and publishing content in Web Manager Desktop Enterprise is a simple 1-2-3 process. This reduces your cost of ownership allowing in-house editing and updating of your staff anytime anywhere. |
| Simple-to-Use | Web Manager Desktop has a complete set of on-screen guidance notes for every screen as well as providing contextual help supporting workflow based learning model. |
| Automatic Hypertext | Being knowledge-based allows Web Manager Desktop Enterprise to provide users with a highly interlinked hypertext environment (that is automatically maintained by the system). This significantly reduces the cognitive load on the managers of the system by automatically building hypertext links for the users. |
| Standards Compliant | From web page delivery to content storage Web Manager Desktop Enterprise excels by complying with the latest technical Internet standards. This saves you time, effort and money in the future by allowing reuse of your content. |
| Self-Service Model | All Web Manager Desktop Enterprise activities are carried out on-line using a self-service model. This means that you are in control working from when and where you like. This reduces your costs and dependencies on expensive IT suppliers. |
| Wizards Support | Web Manager Desktop Enterprise easy-to-use wizards automate routine tasks and users can adjust the screen layout to suit their needs. For example, they can determine how much content they view per wizard page |
| Integrated Workflow Help System | Each desktop contains a workflow based help system to allow users to quickly 'step-out' and engage in workflow learning and then again re-engage in the target task. This reduces support and training costs and allows flexible working models. |
| Integrated Search Engine | Web Manager Desktop Enterprise includes an embedded search engine as well as the option to integrate with other third-party search engines. |
| Integrated Meta-Data and Internet Engines Support | Web Manager Desktop Enterprise includes full meta-data standards support, which is automatically used to create optimized HTML pages for Internet search engines. This relieves the user from managing this process directly by automating the process as far as possible. |
| Integrated e-Marketing Option | Web Manager Desktop Enterprise fully integrates with a comprehensive e-marketing package that can be customised to meet your needs. This saves time and effort in managing two systems when only one integrated solution is required. |
| Integrated e-Commerce Option | Web Manager Desktop Enterprise fully integrates with our e-commerce options and can also work with other leading third-party e-commerce 'shopping basket' and e-commerce packages. |
| Customisable User Interface | Web Manager Desktop Enterprise can provide a customised visual identity to every user either based upon their own preferences, their role or their organisation. This supports your corporate identity and allows customization of your clients' experiences. |
| Platform Independent | Web Manager Desktop Enterprise can be accessed from all major operating systems including Microsoft Windows, Apple Macintosh and all major Linux platforms via any standards-compliant web browser. |
| Disability Access | Web Manager Desktop Enterprise can be easily enabled to allow full access for users with disabilities. |
| Full Multi-User Support | Account management in Web Manager Desktop Enterprise is made easy via 'Add User' and 'Manage User'. Additionally accounts can be added on-line via a web browser, by 'bulk' uploaded from databases/files or by using corporate directory services (such as LDAP). |
| Security | An integrated role-based security model ensures each user can be restricted to the desktop functions available to them. Users can be readily switched between levels by any authorized administrator. |
| Auditing | Web Manager Desktop Enterprise has an extensive range of auditing featuring for tracking users' behaviours. These include login-logout features, on-line time summary and click-by-click event logs. |
| Web-based Administration | All administrator processes use a self-services model that can be carried out on-line via the web. This reduces both administration time and IT support costs. |
| Integration | Web Manager Desktop Enterprise is fully integrated with our other packages and modules ensuring that existing information can be readily reused in new ways. For example, if a user has registered with a publicity web site then they can be seamlessly integrated into the product e-mail list or into the personalised support area. No re-keying of information is required and this makes life easier for non-IT specialists. |
| Scalability | Web Manager Desktop Enterprise is based upon highly scaleable technologies (Java, Servlet, SQL, etc) that allows for full loading balancing as your business needs expand |
| External Integration | Pre-existing software solutions can often be readily integrated into any desktop products and Web Manager Desktop Enterprise. This allows you to leverage existing infrastructure and investments. |
| Unified Information | Information is seamlessly integrated between all our desktop packages. This saves time and money whilst keeping the latest information at all your employees' desktops. |
| 24 Hour Access | Your content can be managed 24x7. This means international teams can manage their own information and you can make those last minute updates from the train, plane or exhibition floor. |
| Built-in Best Practice | Web Manager Desktop Enterprise is built upon 10 years of experience of building professional web-based systems. This experience and best practice is captured and presented for your organisation to use and leverage your position on the ever-changing Internet marketplace. Your organisation saves time and effort by using best practices out-of-the box with Web Manager Desktop Enterprise. |
| Future Proof | Web Manager Desktop Enterprise is well positioned to take on the challenges of your future needs. Its standards based approach ensures that you transition to next generation technologies, tools and processes. |
| Interoperability | Web Manager Desktop Enterprise offers high interoperability with front-end tools (such as web browsers), infrastructure (such as e-mail and LDAP) and back-end services (such as Web Services). Contact us to discuss your specific needs. |
Also see further information about our other Products in our portfolio.